Automation is not just for businesses; we can use automation in our personal lives to make us. Why is it some people seem to achieve more than others in their day?
It may be that they have eliminated repetitive tasks and only focus on those that deserve attention. Zapier is one of the best tools to help automate our lives. However, due to everyone different requirements, some tools work better than others. And, as Zapier's pricing is not affordable for everybody, so we have listed some alternatives.
1. Integromat
This comes closest to Zapier in terms of UI and usability. The simulations are fluid, and everything is easy to locate and use. The best part about using Integromat is that it provides a full visual profile of your created tasks. It looks like you have created a mind map. This gives you a quick overview of what automated tasks (scenarios) you are running.
You can create any number of scenarios and each one can have multiple steps or operations. It is a true multi-step automation tool.
The main gripe with Integromat and every other automation tool for that matter is their pricing strategy. Most of them follow subscription-based pricing with multiple tiers. So, we would recommend checking each one out by visiting their websites. One good thing about Integromat is that it has a free user account option which gives you a limited access to their service, so that you can check it out before buying.
2. Automate.io
Automate.io is one of the best Zapier alternatives, keeps its pricing low for start-ups and businesses, yet offers a similar level of third-party integration to Zapier. It offers services in all categories, such as social media, campaigning, payment automation, basic email automation and more. You can create conditional workflows and integrate several web apps and hook them with suitable flowchart. The APIs are easy to understand, and you can get going within minutes.
Automate.io is a powerful Zapier replacement.
3. Power Automate
Power Automate is strictly for personal use. It is a well designed app, and ideal if you are just getting started. With a big assortment of pre-created flow templates for you can use. It is especially useful if you already use Microsoft services such as Office 365, OneDrive and OneNote, as with a single authentication you can connect all your apps.
You will need to give permission to all the apps you are adding individually, which can be timely at first. However, this also brings us to one of the drawbacks of this app, you can only login into the app using your Microsoft account, there is no other way. However, this drawback is reversed when seeing its feature set.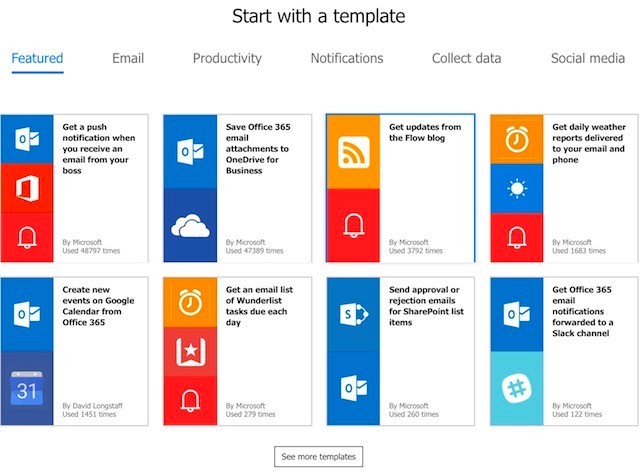 Apart from Microsoft apps, it also supports more than a hundred other apps. It has an app for both Android and iOS platforms. The best part of this app is that it's totally free.
4. IFTTT
Generally known as a consumer-facing product for automation IFTTT, but it also has a separate platform for businesses too? With the business platform, you can connect more than 600 apps. IFTTT allows you to integrate mobile apps which makes it even more capable. With smartphones being a primary communication device for most of the users, this feature is a welcome addition.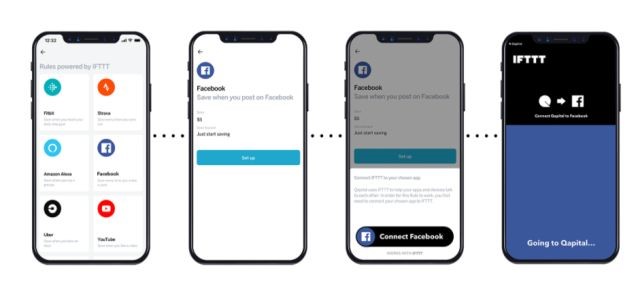 IFTTT has its own set of APIs called Connect which allows businesses to integrate any service be it an app, an email service or a website with the embeddable connection. It has special services for fintech (financial technology) companies looking to automate their work.
5. n8n.io
For a free alternative to Zapier then take a look at n8n.io. It's a free and open workflow automation tool that works pretty well across popular web apps and services. It can be used for both personal and business purposes without paying a penny. Unlike other alternatives to Zapier, n8n offers a seamless and visual editor to create a workflow which is called node on this tool. You can search for services and integrate them with webhook in a few clicks. The triggers option allows you to define multiple conditions, such as, when and where the actions will be executed.
N8n.io allows you to integrate with the popular web apps like Google Doc, Gmail, Slack, GitHub, Asana, Freshdesk and more. This is a great workflow automation tool and a solid alternative to Zapier given that it's completely free to use.
6. Tray.io
Tray.io is an automation platform for large businesses and growing start-ups. This platform is head and shoulder above Zapier and brings many of the user-friendly features that Zapier is popular for. It uses a drag-and-drop editor to create a seamless workflow visually.
It offers more than 4500 APIs from popular services like Salesforce, Google, Facebook, Mailchimp, and Dropbox. Although, the service is quite costly, so aimed more at the large business.
7. Zoho Flow
Zoho Flow brings many advanced features in a user-friendly interface. Similar to Tray.io, Zoho Flow allows you to integrate your apps and create workflow scenarios on a visual editor. You can construct a flowchart of actions, edit them seamlessly using conditional triggers and commence the workflow in just a few clicks. In just a matter of seconds, you can get emails, files, reports from one service to another.
Zoho Flow provides a huge range of pre-built workflows, so you can get started in no time. Just choose the template and authorise the integration. It has integration with almost all the popular services out there including Google Calendar, Asana, Slack, Trello, Gmail and more.
8. Apiant
This may be overwhelming as Apiant supports over 15000 different apps. But, you can start with your own small-scale automations and then take it from there.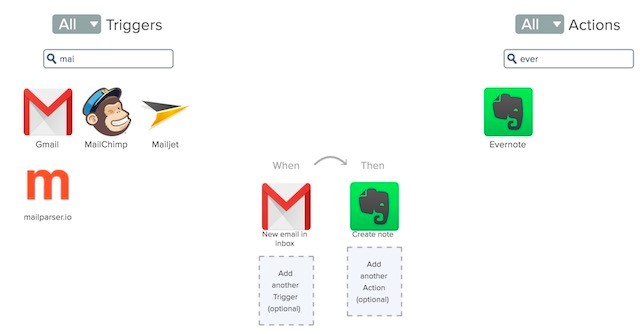 You will find that all your apps have Apian integration. You can create triggers and actions. One unique feature of Apiant is that you can order custom services for yourself based on your requirement. The Apian platform is best used by business owner as opposed to personal usage.
9. Workato
Workato easily rivals Zapier with it's powerful and advanced automation platform. However, it comes at an expensive subscription cost and is primarily aimed at corporations and large businesses. Similar to Zapier, Workato has support for multi-instance workflows. Workato aim is to make automation easier and usable across departments.
Workato also uses AI's and bots to improve your organisation's productivity. A number of large-scale companies like Cisco, Autodesk and Visa use Workato. It is a powerful alternative to Zapier and if you run an enterprise with thousands of employees, this would be a perfect choice.
10. PieSync
PieSync boasts itself as a direct competitor to Zapier. By syncing data between them on a real time basis, PieSync allows your apps to talk to each other. This makes it ideal for a busines with a remote working team. All their work will be synced across apps giving everyone access to the data instantly. It is also intelligent enough to find and manage duplicate data points and remove them.

For example, if two members of a team update the same data. While syncing the data, PieSync will know that the data is same and will save only one set of data, thereby removing any duplication. This makes it a tool good for business but not so for individual usage. This could be the app for you if you business relies on remote working.
Get More Done by Automating Your Work
Automation is a big tool which we can use to get more things done in a limited amount of time. Whenever possible should use automation to stop ourselves from falling into the trap of doing repetitive tasks. Remember being productive and being busy are two very different things all together.
Get in touch
If you would like to find out more about which apps would be best for your business? Get in touch with our experts to find the best solution for your business needs.