share:
Don't miss out the latest news, tips & tricks
×
Microsoft 365 and Google Workspace are suites of productivity tools that let you undertake business tasks using Cloud technology. Various tasks can be performed, such as sending/receiving emails, managing calendars, scheduling meetings, collaborating within a team, video conference, and creating presentations and spreadsheets.
Using our guide below, decide which application works better for your business.
What does Google Suite offer?
Google Suite is a collection of productivity apps that offers your business email, shared calendars, online document editing and storage, video meetings, and more.
It offers applications such as:
Google Mail
Google Drive
Google Calendar
Google Documents and Sheets
Google Keep
Google Forms
Google Slides
Google Hangout
Google Hangout Chat
What does Microsoft Office 365 offer?
Microsoft Word
Microsoft Excel
Microsoft PowerPoint
Microsoft Outlook
Microsoft OneNote
Microsoft SharePoint
Microsoft Publisher
Microsoft Exchange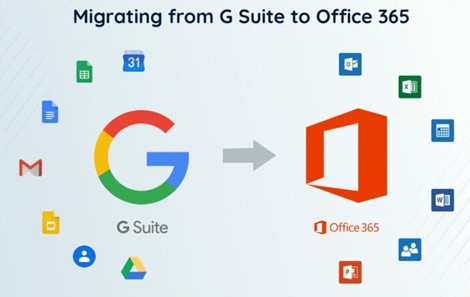 Pros – Microsoft Office 365:
There are various pricing options for Microsoft Office 365, such as home, business, enterprise, non-profit, and education versions. This allows users to choose the package option that suits them better.
Automatic upgrades that keep your system software up to date.
Desktop and Cloud-based versions. These allow you to install the full versions of Microsoft products on your desktop and work offline using 'classic' applications.
1TB of storage.
Office 365 has several security options, such as threat protection, data protection, and device management features which will help protect your business from threats and third-party access.
Cons – Microsoft Office 365:
Multiple pricing options with different sub-versions, making it potentially complicated to understand.
System upgrades are costly for software not compatible with Microsoft 365.
Although Office 365 has numerous advantages, installation must be conducted locally. This means that a person in your business must be assigned certain tasks; therefore, they may be accompanied by hidden IT costs.
Pros – Google Suite:
There are three package plans which all have different costs. They are Google Workspace, Business Starter, Business Standard, and the Business Plus option.
Data encryption has received enhancement in Google Workspace. It helps protect your emails, chats, Google Drive files, and other data.
It has advanced search functionality to find messages and other navigation activities.
Google apps functionality is extensive.
Users experience real-time collaborations in documents.
Data can be accessed remotely from any location worldwide.
Cons – Google Suite:
There are no desktop tools for productivity.
Google Workspace apps are primitive in comparison with tasks accomplished by Office 365. For instance, when editing files using Google Workspace, you cannot preserve the exact formatting of Office 365.
Inexperienced users may find it complex to understand Gmail labels.
Google Meet allows up to 100 participants on the Business Starter plan, 150 for Business Standard, and 250 for the Business Plus plan. This is lower compared to Office 365.
What is the best solution for your business?
Both Office 365 and Google Workspace have different strengths and weaknesses. Depending on your business needs, you can choose the program which suits you best by using our facts above.
If you would like help selecting, installing and managing either Microsoft Office 365 or Google Suite: contact us below, and our experienced team will be happy to assist.