What is renewable energy?
Renewable energy is energy that is collected from renewable resources that are naturally replenished. It includes sources such as sunlight, wind, the movement of water and geothermal heat. Most renewable energy sources are sustainable and therefore environmentally friendly.
The most known sources of renewable energy come from wind, solar, hydroelectric and bioenergy.
What are the benefits of renewable energy?
There are many reasons why continuing to adopt methods of renewable energy is increasingly important for our world's future. As they're now in a much more plentiful supply, compared to fossil fuels, governments across the world are looking to develop renewables to exclusively power their nations.
Renewables produce little or no harmful emissions when created and used, so the clean energy they provide will play a crucial role in preventing further global warming and protecting our climate, wildlife and reducing our carbon footprint.
Bespoke Software Solutions for Renewable Energy
Thanks to the growing popularity of energy management platforms and renewable energy software, dozens of ready-made applications are currently available for the energy industry. Monitoring the renewable energy plants, planning maintenance, keeping an eye on the energy storages – there's a tool for almost every task. 
However, the problem starts when your team uses multiple applications. For example, an analysis by Harvard Business Review found that just for a single supply-chain transaction, one of the Fortune 500 consumer goods companies needed to switch between 22 different applications and websites – which is neither convenient nor efficient.
Given how hard it is to find one application that has all the features you need, especially in a rapidly evolving industry. It is even harder to find a tool with the specific features needed or one unique to your company's needs.
Add to this the lack of personalisation options, questions about security and frequent problems with "outgrowing" third-party tools, and it is clear that off-the-shelf software may not be able to support renewable energy companies.
To solve those problems and get a software solution that is made only for them, many companies opt to get custom software instead.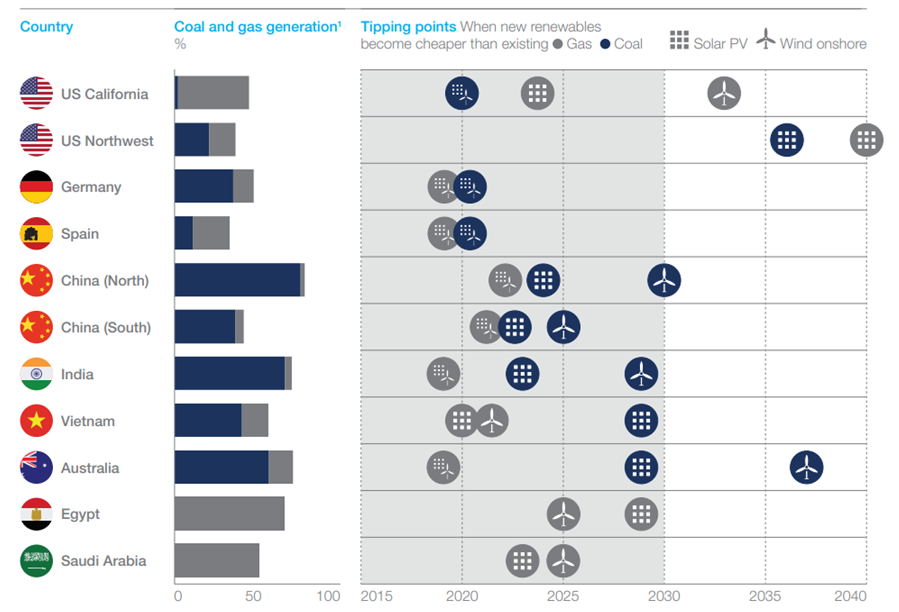 Statistics from McKinsey predict that by 2030 new-build renewables will outcompete existing fossil fuel generation on energy cost in most countries – one of the key tipping points in energy.
Looking to the future
Whilst in some cases, off-the-shelf software is sufficient to support renewable energy businesses, with the rapid growth of the industry and the companies within it – it may be far more beneficial from both a trading and financial perspective to go with a bespoke software solution from the start.