share:
Don't miss out the latest news, tips & tricks
×
The history of Internet Explorer:
After 27 years Microsoft has announced Internet Explorer 11 will be the final version. Internet Explorer was first introduced by Microsoft as a web browser in 1995 for Windows 95, as an add on package. 95% of the current market were using Internet Explorer making it a popular feature. Later versions were then available as free downloads or included in the original releases of Windows 95 or later. Over 27 years there has been 11 versions of Internet Explorer but since 2016 there has been no more feature developments leaving the retirement of internet explorer inevitable.
Current Market Leaders
As technology continues to development other internet browsers have overtaken Internet Explorer and gained popularity. As of May 2022, Google Chrome is the leading internet browser in the World with a global market of 64.91 percent.
The graph below to show the statistics up to 2021.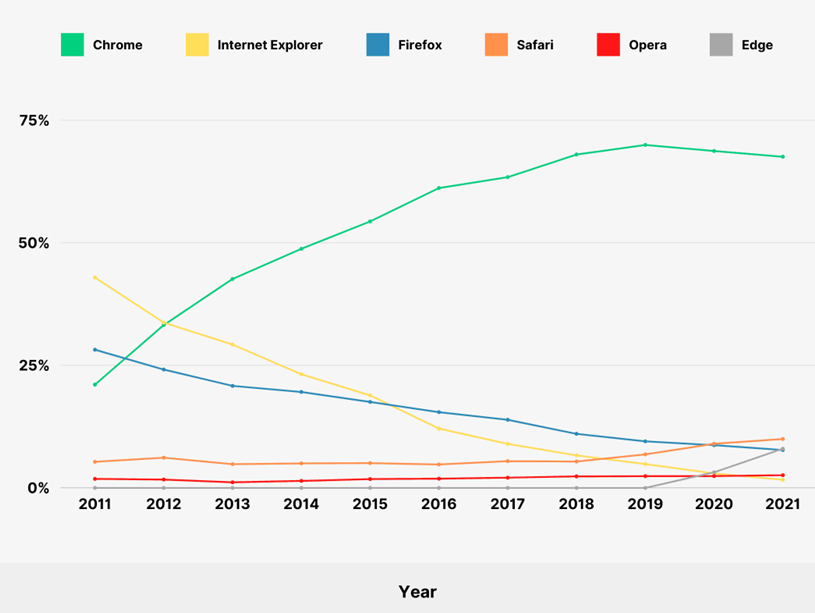 A word from Microsoft:
Sean Lyndersay, Microsoft Edge Program Manager, said "the future of Internet Explorer on Windows 10 is in Microsoft Edge."
"Not only is Microsoft Edge a faster, more secure and more modern browsing experience than Internet Explorer, but it is also able to address a key concern: compatibility for older, legacy websites and applications."
"Microsoft Edge has Internet Explorer mode ('IE mode') built in, so you can access those legacy Internet Explorer-based websites and applications straight from Microsoft Edge. With Microsoft Edge capable of assuming this responsibility and more, the Internet Explorer 11 desktop application will be retired and go out of support on June 15, 2022, for certain versions of Windows 10," he added.  
The future of web browsers:
There's always room for development from Web Browsers and addition features to be incorporated, from improving the overall web experience to how we can access information in a faster and safer way. The future development ideas have no limits.