Which is the right office suite for your business? There are ultimately two key players to choose between – Microsoft 365 and Google Workspace.
Microsoft 365 v Google Workspace, we put them side-by-side to see how they compare. Whilst on the surface they seem to be very similar in terms of functionality, when you dig deeper there are some very different features that could sway your decision.
Let's compare…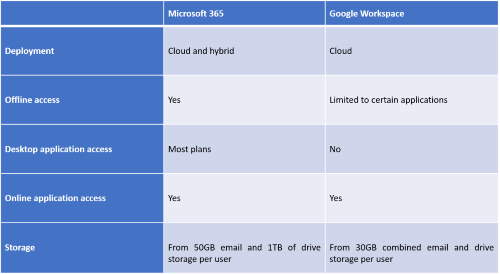 They may look very similar, however let's review the key differences between the solutions.
Microsoft 365
Microsoft 365 was launched in 2011 to help "bring together" Microsoft's existing productivity tools such as Word, PowerPoint, and Outlook into an "always up-to-date cloud service". Recently, Microsoft announced new licence changes, making Microsoft 365 the new Office 365, which now has over 200 million monthly active users world-wide.
Cloud storage:
Moving to Microsoft 365 takes your business into the cloud. One consideration when moving into the cloud is to ensure you have enough space to store all your businesses data. All Microsoft 365 business plans come with 1TB of OneDrive storage and 50GB of email storage per user, with the ability to buy more if needed.
Applications:
Microsoft 365 can help your business achieve growth with its application powerhouse which offers some of the leading productivity tools.
Office applications:
Word: Write with the ability to collaborate with anyone in real-time.
Excel: Gain control of your data – real-time view and edit a spreadsheet.
PowerPoint: Bring next generation presentations to the table with PowerPoint.
SharePoint: Simply share and manage your organisation's content in one place for seamless collaboration.
OneDrive: OneDrive allows you to save your files in the cloud so you can share and collaborate from any device, anywhere.
Communication tools:
Outlook: email, calendar, contacts, and files.
Teams: Teams allows you to chat, meet, call, and collaborate in a centralised and secure system. On any device and from anywhere in the world.
Yammer: Employee engagement can be enhanced on their professional social media platform.
Security:
Some of the security features you can take advantage of are:
Advanced Threat Protection (ATP): Guard your employees from any attack designed to compromise your business information. ATP will provide you with; attachment scanning, AI analysis to identify and remove threatening messages and automatic link scanning on any emails to ensure it is not part of a phishing attack.
Data Loss Prevention (DLP): DLP will automatically identify any sensitive information (for example credit card details, security numbers and passport number) to prevent sharing this information with anyone outside your organisation.
Multi Factor Authentication (MFA): Enabling MFA requires employees to provide multiple forms of certification to prove their identity when signing into their account. MFA means your employees accounts are 9% less likely to be compromised.
Microsoft 365 security centre: The security centre enables you to monitor and manage all identities, data, devices, apps and infrastructure all in one place.
Price:
The Microsoft 365 solution created subscriptions that would be suitable for everyone. In this they considered the cost when creating pricing to ensure they were affordable.
Google Workspace
Google Workspace has surpassed 2 billion users, but only 5 million of those are reaping the benefits of the paid platform.
Cloud storage:
The cost for Googles cloud storage starts off much lower on their Starter plan at 30GB. However, jumps significantly to unlimited on the Enterprise plan – as does Microsoft 365 with their enterprise plans). So, it is down to business storage needs.
Applications:
The applications Google have included in Google Workspace are very similar to the ones Microsoft include in their subscriptions.
Connect:
Google Workspace allows you to connect with other employees with ease; you will have access to:
Gmail: Gmail is a secure and smart inbox, allowing you to do more with your inbox.
Calendar: Calendar function allows you to better manage your time and plan.
Google Hangouts: Google Hangouts is a platform that allows you to seamlessly video call and message with other employees.
Google Drive: Store all your Google Docs, Sheets and Slides all in one place that allows you to easily share them with your wider team.
Create:
Google Workspace prides itself on allowing businesses to create whatever you need to get the job done. Access to three key solutions helps you be more productive:
Docs: Google Docs is a cloud-native word processing application which allow real-time collaborate with other employees.
Sheets: This is Googles version of Microsoft Excel and allows you to manage and organise all your data in an online spreadsheet.
Slides: Their cloud based Google Slides enables you to create slide decks.
Security:
Google have the basics in place across all pricing plans with two-step verification, Group-based policy controls, Advanced and Protection Programme and Endpoint management.
All of the above will provide you with the basic security features you need to start keeping your business secure. However, many businesses want something more than that. And the higher the Google Workspace plan you are on, the more security features you will have access to. Example: Vault and Data Loss Protection.
Price:
Google four clear pricing plans to make it easy for businesses to select the one right for them. Whilst there is a clear difference between the plans the key difference is the amount of storage you have and the features you can access.

What's the right office solution for me?
Our clear winner is Microsoft 365 – thanks to its security capabilities and variety of plans to suite any business of any size.
Cloud storage: To securely store your data you need to have adequate storage. Microsoft offers a generous amount of storage with the ability to add more if needed. Although, Google allows you to go that extra mile and will allow you to have unlimited storage if needed.
Security: With their huge yearly investment into security, it is safe to say they are in the best position to keep you secure. Whilst Google has fantastic security tools available, some of which are very similar to the ones in Microsoft 365. It must be said that Microsoft storms ahead with their comprehensive security solutions.
Price: Microsoft have created a variety of pricing plans to help accommodate every business. Whilst Google have created four strong pricing plans, Microsoft wins us over with their vast range of plans suited for everyone.
Office applications: In terms of features, applications and tools, there is not much in it. They come with adaptations of the same tools, but within the tools the functionality is quite different. For instance if you are using Google Workspace you need basic office applications, such as Excel and Word, in order to collaborate with third parties. This means you could be paying twice if you go for Google over Microsoft.
If you would like guidance on which provider would best suit your business, please get in touch.